The National Geographic Explorer has garnered quite the reputation for quality over the years. Even before it set sail in the Polar regions, there was a buzz around it. Although it began life as a Norwegian ferry for Hurtigruten, the National Geographic Explorer was completely rehauled in 2008 and hailed as the first purpose-built ship for Polar tourism. The added benefit of the design having 40 years of expedition history behind it was also a cause for excitement.
The 6,000-ton ship has the highest Polar 1A categorization, which means that it makes light work of even the toughest of Polar environments. Needless to say, I was impatient to get on board and see what all the fuss was about.
My cabin on the National Geographic Explorer ship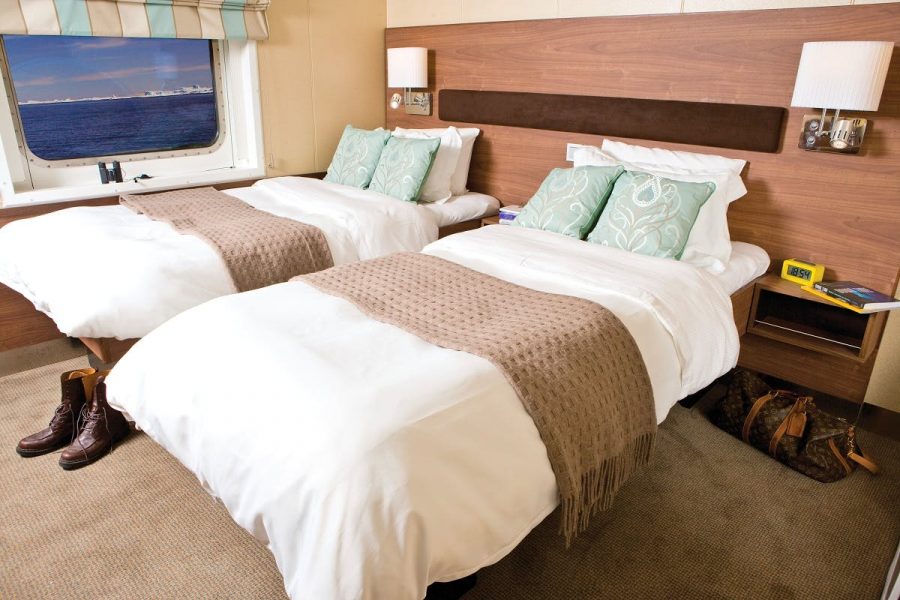 Upon entering the ship, I was immediately guided to my cabin where I found my large duffel bag waiting for me. Russian roommate Vladimir greeted me at the door of my cabin, a twin room which we would share. Our cabin was pleasantly spacious and larger than I was expecting. Vladimir had claimed the bed closest to the window, but both were good-sized singles with plenty of space around them for luggage and camera gear. Opposite our beds was a writing desk and though I was expecting a small porthole, I was surprised to see a large sweeping window in its place.
My previous voyage to Antarctica had been on a smaller ship in a triple cabin, sharing with two other guests, so this large twin room felt like a palace by comparison. The en suite was also spacious and the room came with several sitting chairs, which became endlessly useful when we were pulling our socks and boots on.
Throughout the voyage, I noted that many people had cabins with private balconies. Although they sounded marvellous – imagine gazing out over panoramic views of the white continent with your morning coffee – my budget couldn't stretch that far. If you do have the means I would recommend it; no one with a balcony was disappointed, to the envy of everyone else on board.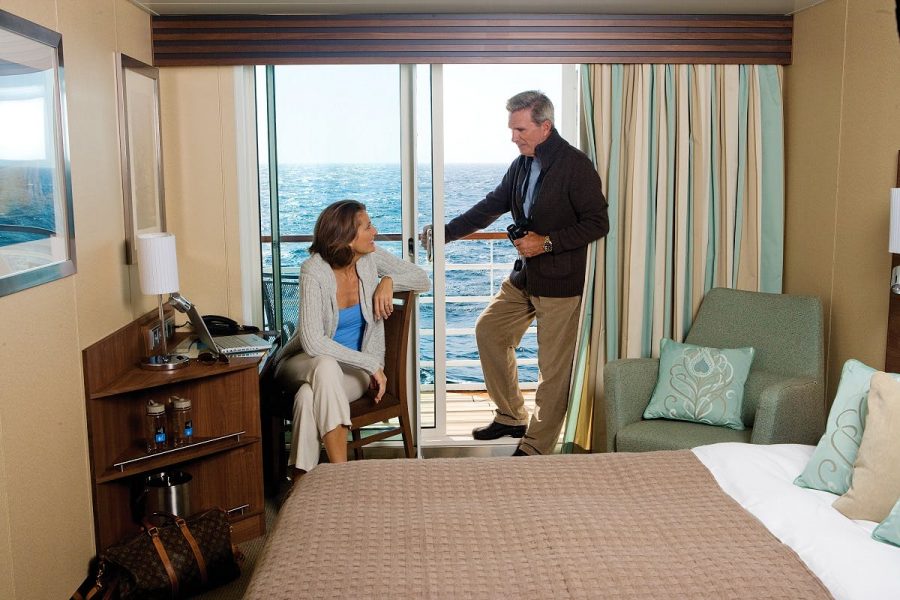 First impressions of the National Geographic Explorer ship
Considering the ship carries just 148 passengers, the Nat Geo Explorer feels like a spacious vessel with plenty of room. I have been fortunate enough in my career to experience a number of Antarctic ships, including some with similar passenger numbers, and I must admit they didn't feel anywhere near as commodious.
Wandering around the communal areas on the first day aboard, I began to understand the benefits that come with being on a vessel that was purpose-built for this type of expedition. The ship is light and airy with a myriad of viewing spaces including outdoor decks and indoor lounges. The top deck, for example, provides an observation lounge with floor to ceiling windows spanning 180 degrees. It was a joy to grab a coffee and a pair of binoculars, relax back in a chair, and not miss a beat as the seabirds went gliding past.
Thanks to its size, the vessel doesn't feel crowded at all. Each social space, such as the library, gym or lecture theatre, are designed to encourage easy movement, something equivalent ships haven't achieved quite as masterfully.
The interiors don't feel dated, but they are certainly less cutting edge than the newer additions to the Polar scene; the Ultramarine, World Explorer and Sylvia Earle, to name a few. The polished wood design used widely throughout the Nat Geo Explorer gives the ship a rather classical charm, but if you're looking for an option with a sleek contemporary feel, it may not be the best fit for you.
Life onboard the National Geographic Explorer ship
The food onboard was always exceptional. Whether it was fine dining lobster in the evening or high tea in the afternoon, it was delicious. Fine dining establishments can have a stuffy overly formal feel, but the balance here was just right; pleasantly relaxed without a formal seating chart, allowing you to sit wherever you liked.
During the Drake Passage crossing, ropes were erected around the dining areas to help steady people, which made for some rather amusing incidents. The staff were brilliant though, and always on hand to assist you with anything that was required.
All the expedition crew were incredibly knowledgeable and the lectures each day were entertaining and informative. There were two top photographers employed onboard, along with seven naturalists and a photo editor from National Geographic. The Nikon camera expert onboard the ship had an array of lenses that you could lend from him free of charge for a few hours. This is apparently typical aboard the National Geographic Explorer, but a complete one-off when it comes to all other expedition vessels in my experience.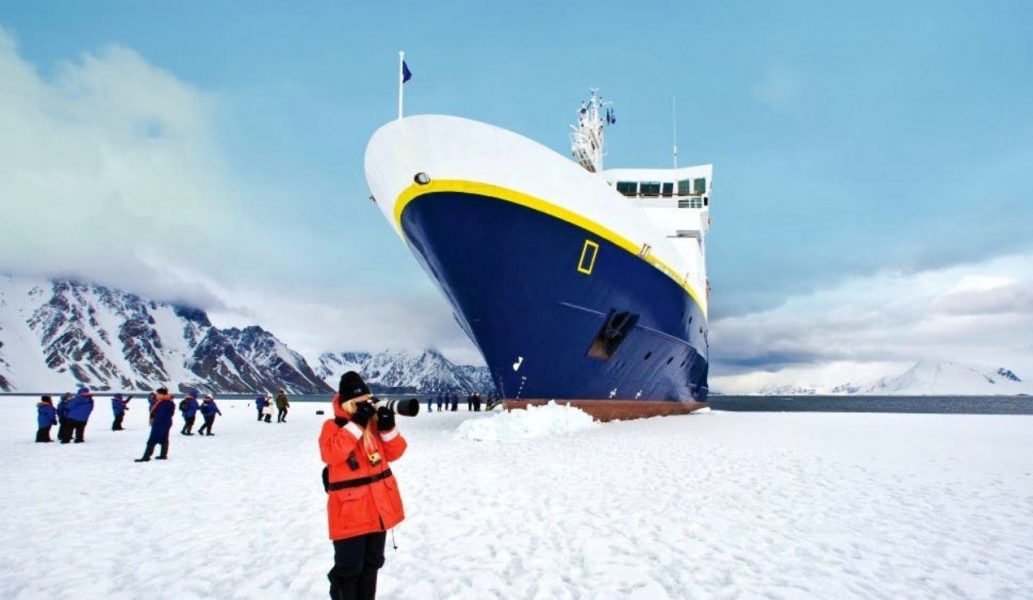 Another impressive aspect of the voyage was the onboard ROV – a remotely operated vehicle – which was deployed on calm days to film underwater at depths that divers could never reach. It was utterly fascinating seeing the footage during evening presentations, especially when some surreal and astonishing creatures appeared.
There was typically enough time for two landings a day and having two zodiac embarkation platforms made the whole process feel quick and easy, which gave us maximum time ashore. The dedicated mud-room was also a blessing, saving us all from having to tramp through the carpeted corridors in muddy boots.
Although it might not be the first thing on everyone's list, I have to mention the gym. Located right at the front of the ship, with full-size windows, it has to have the best view from any treadmill in the world! Sybarites will be pleased to hear that there is a sauna, and you can treat yourself to a massage in the spa room. These kinds of facilities are not what I'm used to on small-ship expedition cruises, but they made for a welcome surprise, and only added to the experience.
Who is the National Geographic Explorer ship suited to?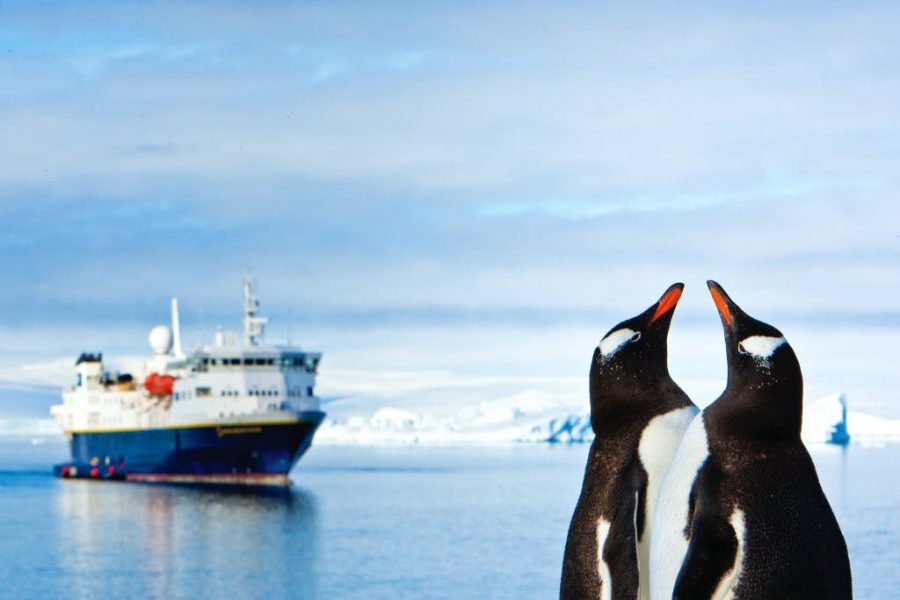 Having sailed aboard the Nat Geo Explorer, it is clear that there is an emphasis on discovery and photography. In many ways, I was expecting this given National Geographic's history and reputation, but it was still good to see it in practice. Curious people will love talking about the ROV with the crew or discussing stories with the photography experts.
Although it is no longer the most modern expedition ship out there, it ticks a lot of important boxes. I could not find fault with the lectures, dining experiences, landings and zodiac cruises, they were all exceptional. It's not the cheapest ship I've sailed on, but neither is it the most expensive. The facilities onboard justify the price point, as does the crew. For anyone wanting a real expedition-style cruise that doesn't compromise on size and facilities, then the National Geographic Explorer is definitely worth serious consideration.